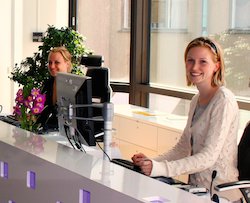 An important part of creating a new medical center is to have comfortable, stylish and ergonomic office furniture.  The right medical center office furniture can help make a sterile, cold medical environment more inviting.  Creating a comfortable space for both staff and patients is something that all medical professionals should consider.
If you want to get the most out of your small practice or large medical center, maximize your space with the right office furniture.  According to Healthcare Design Magazine, staying competitive in the healthcare is an important part of the the business.  Creating a professional environment for your workers and a comfortable waiting area can help patients, visitors and employees feel valued at your practice.
In order to make the best professional impression, the office furniture in a medical center should be both functional and attractive.  The Modern Medicine Network reports that patients begin forming opinions about a doctor or medical facility as soon as they walk through the door.  Leasing medical center office furniture makes it easy to instantly create the perfect office space and patient care areas for any type of practice.  FinancingMED provides assistance in the acquisition of medical center office furniture, including desks, chairs and storage.
Resources