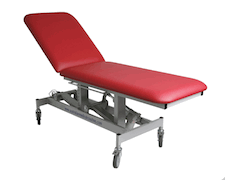 The healthcare industry has experienced dramatic growth in recent years, leading to an increased need for basic equipment like medical exam tables and other supplies.  According to Forbes, the Affordable Care Act, combined with an influx of newly insured patients, has definitely impacted demand for high quality medical equipment.
While the demand for medical equipment and technology has grown, prices have been going up as well.  The cost of basic medical supplies like tables and carts have made it difficult for new clinics and practices to open their doors and for existing practices to replace outdated equipment.  Many new medical practice owners are taking advantage of purchasing alternatives like leasing in order to get the best medical exam tables for their practice.
Leasing has become a popular choice for many physicians and medical professionals who want to maximize their budget.  Through leasing, you can get the latest designs in medical exam tables and easily upgrade them when you need to.  FinancingMED provides assistance in the acquisition of all types of medical exam tables, including medical room exam tables, pediatric treatment tables and imaging tables.
Resources