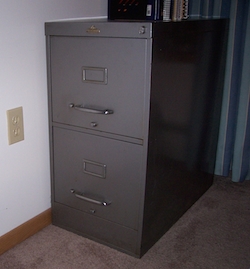 Since first being enacted in 1996, the Health Insurance Portability and Accountability Act of 1996 (HIPAA) has regulated the way that physicians can store, use and transmit personal patient information.  According to the American Medical Association, it's up to medical professionals to control how information is accessed, stored and transmitted and to ensure they are compliant with all HIPAA requirements. The U.S. Department of Health & Human Services is responsible for defining and enforcing HIPAA rules and regulations.
While medical records are now primarily stored electronically, there is still a big need for paper files and hard copies for some types of information within a medical office.  Medical file cabinets still have their place in a medical office, but there is no longer a need for rows of rows of dusty, outdated cabinets.  Instead, many offices now take advantage of flexible leasing options that make it possible to get just what you need now and to easily add to additional cabinets as your practice grows.
Leasing vs. purchasing file cabinets for a medical practice ensure that you get exactly what you need.  FinancingMED provides assistance in the acquisition of file cabinets for medical centers, private practices and hospitals.
Resources