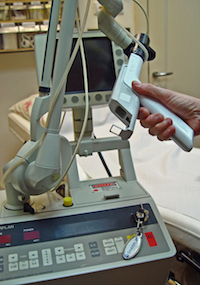 As reported in science journal Biophotonics, the market for medical lasers will hit the $2 billion mark by 2018, thanks in part to a large aging population and an increase in requests for laser treatments for eye disorders.  Diode lasers and solid state lasers, the most popular for aesthetic treatments, are poised for the most growth, as more patients seek out treatments for skin problems, tattoo removal and vein removal.
Medical lasers have become more affordable, but many physicians and aesthetic professionals opt for leasing their equipment instead of investing in a piece of machinery that will be obsolete in a few years.  According to Aesthetic Medicine News, this is a common problems because lasers depreciate quickly, and there is always something new and innovative coming.  Leasing medical lasers makes sense for those who want to always have the best equipment on the market.
As the need for medical lasers increases and more innovative laser technology is developed, the market will continue to see new products and systems be introduced.  Avoiding the risk of purchasing systems that will be obsolete by leasing medical lasers can greatly reduce start up costs and help you get a better return on your services.  FinancingMED provides assistance in the acquisition of all types of medical lasers, including including those used for aesthetic and medical purposes.
Resources