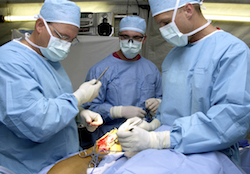 Just as your computer systems and other technology tools require replacing every few years, your  miscellaneous surgical equipment also needs to be replaced.  Having all of the right equipment for your surgical practice is an imperative part of offering the best possible patient care.  Purchasing new miscellaneous supplies and equipment may not seem like the best use of business capital, but it's an important step you must take when running a successful surgery center.
The types of miscellaneous surgical equipment a practice needs depends on what types of procedures are performed.  In general, a surgery room should include plenty of bandaging materials, along with sanitizing equipment and extra surgical instruments.  These items need to be replenished regularly, making it important to always have a good stock of items on-hand.
Purchasing surgical equipment can quickly get expensive when you need to replace items and upgrade your technology, which is why many practices are now leasing miscellaneous surgical equipment.  FinancingMED provides assistance in the acquisition of all types of miscellaneous surgical equipment, instruments, monitoring supplies and surgery tables.