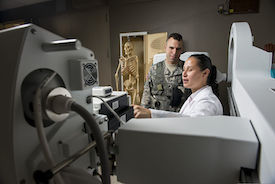 The physical therapy and outpatient rehabilitation fields represent a $29.6 billion dollar industry in the U.S.  Several factors have led to the industry's growth in recent history, including increased patient access to physical therapy treatments, a trend in unhealthy youth lifestyles and a growing number of practitioners specializing in popular services for geriatric patients, pediatric patients and sports physical therapy.
The rapid growth in the physical therapy industry has resulted in a vast array of choices when it comes to physical therapy machines. Being well-prepared with up to date equipment for patients is the best way to develop a strong and successful practice.  Ultrasound therapy machines, electrotherapy machines, therapy table and high quality accessories are just a few of the items that any reputable physical therapy practice should have before opening their doors.
The majority of physical therapists practice outside of hospital settings, instead working in their own practice or in home care settings.   In order to offer the most flexibility and the highest level of care, leasing all of the different physical therapy equipment that is needed has become a popular choice.
FinancingMED provides assistance in the acquisition of all types of physical therapy machines, including ultrasound machines, diagnostic equipment and exam tables.
Resources
American Physical Therapy Association