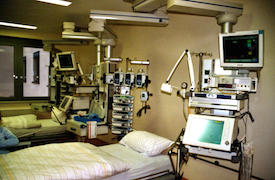 Providing comfortable surgery recovery beds is essential in a surgical practice, but it can be difficult to afford the best when you are first opening your doors.  Leasing surgery recovery beds is the easiest way to get exactly what you want without having to sacrifice quality due to limitations in available capital.  By leasing surgery recovery beds, you don't have to worry about making repairs and you can trade in your beds for new ones depending on the details of your lease agreement.
Recovery beds are one item in a practice that will need to be replaced every once in a while.  Over time, the mattresses and controls can start to wear out.  Instead of worrying about making repairs or replacing items when they are damaged, you can enjoy the flexibility that a lease offers.  Take advantage of the latest equipment and add or reduce the number of beds you have as the needs of the practice changes – it's easy to do when you choose to lease your beds and other furniture.
If you are looking for a more affordable way to get the recovery beds you need right away, consider a medical equipment leasing program.  Leasing equipment like beds, exam tables and diagnostic equipment can make it easy to open your doors to patients.  FinancingMED provides assistance in the acquisition of all types of surgery recovery tables and other medical equipment.