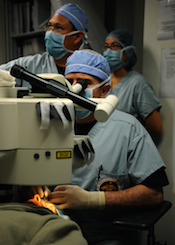 Surgical microscopes are designed for use in surgical settings where precise control and easy access are required.  Many common types of surgical procedures are now performed with the help of  a surgical microscope, including dental treatments, ENT surgeries and neurosurgery.
A new surgical microscope can cost a medical facility several thousand dollars for the most basic model.  More advanced models can easily go into the hundred thousand dollar range, making buying new an impossibility for many practice owners and especially those with limited credit.
Leasing surgical microscopes can be a much more cost-effective way of getting the latest, most innovative microscope technology.  FinancingMED provides assistance in the acquisition of all types of surgical microscopes, from the most basic models on up to the most advanced, feature rich options.
Resources