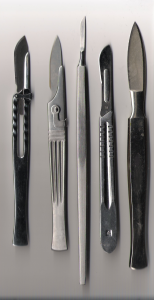 No surgery room is complete without the right surgical tools.  It's essential to maintain a supply of high quality surgical tools that are in perfect condition for every patient that you treat.  This includes starting out with a full set of tools as soon as you open your surgery center, medical practice or other medical facility and always maintaining and updating your tools as needed.
The cost of keeping up your collection of surgical tools can be difficult, even after you've been open for business for a while.  Even the most successful practices can have difficulty finding the capital required to buy new equipment for the business.  Leasing surgical tools is one way to that medical professionals can get what they need without having to worry right away about how they will afford it.
FinancingMED provides assistance in the acquisition of all types of surgery tools, including scalpels, scissors, retractors and needle holders.
Resources
Teleflex
Lessors.com